Browsing articles tagged with " Book Sculptures"
Book Sculptures by Bronia Sawyer
work of UK-based Bronia Sawyer who colors, folds, and rolls the pages of books to create these bird and flower-like plumes of color.
She says book art is "like an abstract form of writing, using images, colours, and shapes in the way a writer uses words, or a musician uses notes, chords, and volume to do a similar thing."
Book lungs
1.
2.
Hong Kong – LeBasse Projects and Hong Kong TImes Square are proud to announce a new exhibition by artist Mike Stilkey in Hong Kong opening this July.
In his first international solo exhibition, Stilkey will be creating his largest body of work to go along with a 24 foot tall installation and several other installation works. The exhibition will be held in the central courtyard of the famous Hong Kong Times Square. Partnering with Times Square – Stilkey and LeBasse Projects will be creating a two story installation which will be viewable from all nine floors of the building and be open to nearly 200,000 daily visitors during the exhibition.
Los Angeles native Mike Stilkey has always been attracted to painting and drawing not only on vintage paper, record covers and book pages, but on the books themselves. Using a mix of ink, colored pencil, paint and lacquer, Stilkey depicts a melancholic and at times a whimsical cast of characters inhabiting ambiguous spaces and narratives of fantasy and fairy tales. A lingering sense of loss and longing hints at emotional depth and draws the viewer into their introspective thrall with a mixture of capricious poetry, wit, and mystery. His work is reminiscent of Weimar-era German expressionism and his style has been described by some as capturing features of artists ranging from Edward Gorey to Egon Schiele.
His work has been exhibited throughout the United States as well as internationally, at galleries and museums such as the Bristol City Museum in the UK, LeBasse Projects in Culver City, CA, Kinsey/DesForges Gallery in Culver City, CA, David B. Smith Gallery in Denver, CO, Gilman Contemporary Gallery, Ketchum, ID, and Rice University Gallery, Houston, TX.
1.
2.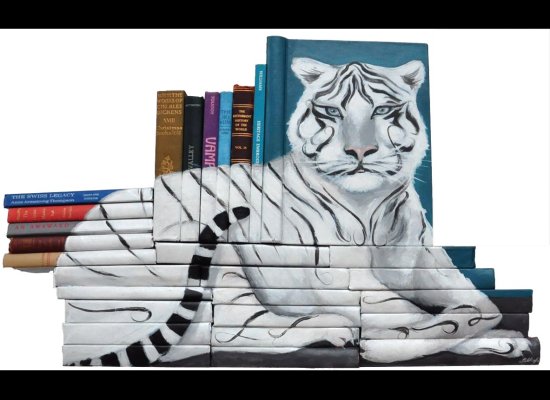 Su Blackwell
Su Blackwell is an artist and art director
1.
2.
Brian Dettmer: Book Sculptures  and Paper Art
1.
2.